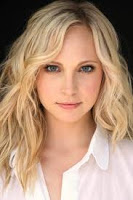 Vee Sky is Nora's best friend throughout the whole entire book series and considers herself to be Nora Grey's "un-twin" as she kindly likes to put it. Her and Nora share a rather special bond in the way that they are constantly there for one another, as true friends should be. Vee mostly enjoys going out and having a good time while scoping out the latest hot guys.
Personality
Vee is outgoing and willing to have some fun despite the possibility of getting into trouble. She enjoys the attention of boys and can be described as rather boy crazy considering all things. Vee is also considerably funny although she may be perciveed as inappropriate or immature. She can be rather daring yet entirely loving of Nora and understanding. Vee Sky is an amazingly loyal friend who tries to help Nora throughout the book even though she's not entirely aware of what may be wrong with Nora. Although she has many positive things about her, Vee Sky can also be rather quick to judge and she ends up disliking Patch for a very long time.
Appearance
She is said to have green eyes with blonde hair and a curvy figure that Marcie Millar calls fat although she is not. Vee is also tall at just under six feet.
Background
Vee is kept out of the loop of Nora's secret life containing Nephilim for quite some time but meanwhile she keeps herself busy with guys, particularly Rixon in the second book, until he vanishes (when actually he's sent to Hell). Finally in the last book Vee ends up with Scott Parnell until unfortunately specific circumstances happen. Before this, Vee is discovered to actually be a Nephilim and, at the end of the book, the reader finds out that Vee Sky marries a human who knows nothing of Vee's Nephilim status.